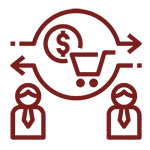 Procurement
Our mission is to create a long-standing partnership with the procurement team, ensuring each organization's needs are met. We pride ourselves on personalized and customized service solutions.
Engineering
We understand engineering as well as the significance of technology and innovation within engineering. Therefore, we will work hand in hand with the engineering team(s) of organizations to develop the most effective and efficient, performance-based material supply programs. What's more, with our many regulatory approvals, it's often effortless to introduce Polymer Resources to new programs.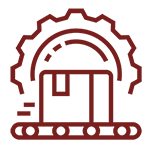 Production
Qualifying and purchasing material is one piece of the equation.  We have a technical team with the ability to travel 24/7 to ensure material processing on the floor is seamless. 
Sales
Partnering with sales teams enables us to be on the leading edge of new product designs and at the forefront of industry boundaries providing speed to your marketplace.
Get Polymer Resins with Four Key Benefits
Our business and staff deliver flexible and attentive service tailored to the needs of individual customers.
Custom Formulating: If you need a special formulation or custom color, we can tailor an existing material or develop a new one.
Customer-centric Business Culture: We emphasize listening, collaborative problem solving, and flexible solutions, including lot sizes of less than truckload (LTL) to truckload (TL).
Straight to the Source: You can reach our customer service team, account managers, technicians, engineers and executives by dialing them directly – no phone trees involved.
Polymer Resources applies exacting standards to ensure the highest quality and consistency of our products and services.
Quality Guarantee:
We are among a very few polymer suppliers that back our compounding and color-matching services with a
quality guarantee
.
High Customer Satisfaction: Our commitment to quality is shown by our less than 1% return rate on standard, customized, and color-matched compounds.
ISO 9001 Certification: Our facilities are certified to the ISO 9001 standard for quality management, which is proof of our ability to deliver consistent, quality products and services.
We understand that speed is often as critical as quality, so we have organized our business to help you get to market faster. We offer express services for color matching and manufacturing to facilitate speed to market, demand fluctuations, and last-minute changes to forecasted business.
Expedited Delivery: Polymer Resources can meet your custom delivery requirements for just-in-time or expedited shipments.
Short Lead Times: We use stocking programs and local warehousing to eliminate delivery delays and make sure our products arrive on time, every time.
Fast, Expert Response: As a small, privately held company, we avoid red tape and bureaucracy to make decisions quickly. When necessary, we can be on site the same day to resolve a customer issue or provide technical assistance.
You can rely on Polymer Resources for consistent products that are available whenever and wherever you need them. Keys to our stability are:
Financial Discipline: In the often volatile plastics industry, Polymer Resources stands out as a reliably steady source for specialty compounds. Our company is privately owned and debt-free, so we can focus exclusively on providing value to our customers.
Long-term Employees: The majority of our workers have been with the company for nearly two decades, ensuring continuity and a strong institutional knowledge base, as well as broad and deep expertise.
Continuous Investment: We make ongoing investments in manufacturing assets, acquisitions, employee training, and in our portfolio of agency-specified products to ensure our customers' success.
Welcome to Polymer Resources' Machine-Readable Files. To access our MRF's, click here.
Our Mission
My mission at Polymer Resources has not changed since I founded this company more than four decades ago. It includes continuing our tradition of financial stability, sustainable growth, and visionary leadership that compounds success for customers, suppliers, and employees. It also means proudly manufacturing our products in America and making them available to the global marketplace.
Les Klein, Chief Executive Officer, Polymer Resources, Ltd.